Business
7 Efficient Ways To Reduce Carbon Footprint As An Individual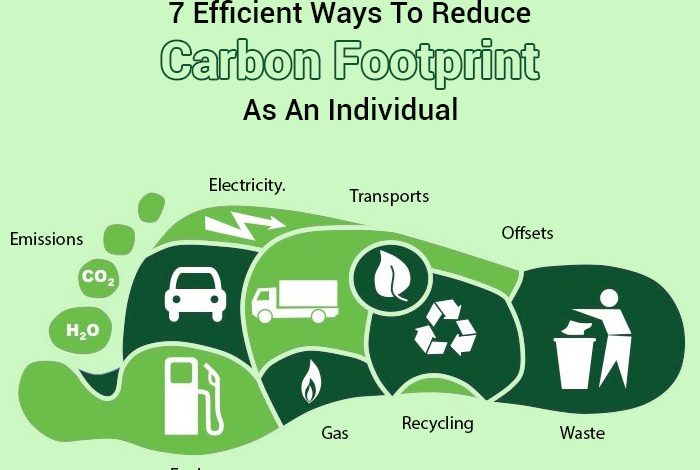 Global warming has become a widely renowned phenomenon due to its wide scale and drastic impact. The planet is on fire due to excessive emission of greenhouse gases and a constant decline in Carbon sinks. Reducing carbon emissions is the most needed measure at the moment to save the future of mankind.
The temperature of Earth has been on the rise since the 19th century. The trend is not uniform across all the regions, yet more areas are getting in the red zone due to global warming. The annual climate report published by NOAA (National Oceanic & Atmospheric Administration) in 2020 reported that the combined temperature of ocean and land has been increasing since 1880 at the rate of 0.13-degree Fahrenheit (0.08°C) per decade. This rate has been accelerated to nearly twice since 1981, which aggravated the intensity of global warming.
As an individual, we often consider our governments responsible for all the problems around us.  However, in the case of global warming, all humans are equally responsible for increasing the carbon footprint of our environment. Let's check out your carbon print first to make things simpler.
First & Foremost Calculate Carbon Footprint
We can understand carbon footprint as the total amount of greenhouse gases that are released into the atmosphere due to different activities. Greenhouse gas is defined as any gas that plays part in global warming by trapping heat in the air. When the gases trap heat in the atmosphere and raise the temperature, then it is termed as Greenhouse effect.
So, the crucial question is that how much Carbon are you contributing to the atmosphere? What is your Carbon footprint? WWF and Carbon Footprint are two of the many calculators available online to estimate your carbon footprint. These calculators calculate the individual carbon emission based upon the location and the energy spending habits. Based on your footprint, you can adapt appropriate measures to play your part in reducing carbon emissions.
You Can Make a Change
Small habits of ours make a significant change when aggregated. So, we have gathered here 7 effortless habits for you to play your part in CO2 reduction. Be a responsible citizen and preserve the true essence of our dear Earth
Habit 1: Insulate Your Living Space
Using Air conditioners in the summers and heating devices in the winters are not only expensive but also contribute majorly to increasing the carbon footprint. An alternative is to insulate your homes with spray foam insulations. Such insulations are energy-efficient, and expandable to offer your house fool-proof coverage. Some DIY methods like using curtains & door snakes, sealing air leaks with weatherproof strips & caulking, and sealing chimneys when not in use can also prove helpful in CO2 reduction.
Habit 2: Use Renewable Energy
Using fossil fuels like coal, petrol, and natural gas contribute highly to the carbon footprint. Many companies are now switching to renewable energy sources like wind energy, solar energy, and hydroelectric power etc. Renewable energy sources are cheaper and eco-friendly. Therefore, it is high time to contact renewable energy service providers. An alternate way is to do investment in solar panels. They might seem to be expensive but they will save you a lot of money in the long run while not compromising on CO2 reduction.
Habit 3: Revisit Your Energy Usage
The energy usage habits speak a lot about your contribution to the carbon footprint. Incandescent light bulbs and compact fluorescent lamps (CFLs) are commonly used in homes and workspaces but it is time to replace those with LEDs (Light Emitting Diodes). Incandescent bulbs and CFLs waste 80-90% of the consumed energy in heating. In comparison, LEDs use only a quarter of energy with 25x more lasting capacity. More understandable even when not mentioned, turn off lights and unplug your chargers and electric appliances when not in use.
Habit 4: Monitor Water Consumption
Water is also a greenhouse gas that plays part in trapping heat in the atmosphere. Water usage must be monitored also because the water supply is getting shorter due to excessive evaporation triggered by global warming. Use a bucket instead of a shower to take bath. Do not forget to turn off the tap when brushing and when using soap in between washing hands. Regulating the temperature of the water heater by keeping it to 120F also helps in CO2 reduction.
Habit 5: Use Public Transport
Commuting to work in a personal vehicle is quite energy-consuming. The transport sector contributed to 25% of greenhouse gas emissions between 1990 and 2006, which is much alarming. Therefore, the best alternative is to use public transport whenever available. It not only plays a role in reducing carbon emissions but also helps to downregulate noise pollution. As per a report published by APTA (American Public Transportation Association), public transportation saves a total of $6251 each year which would have been invested otherwise in fuel consumption.
Habit 6: Find Ways To Recycle
Different stages of manufacturing require energy and raw materials, which contribute highly to higher levels of greenhouse gases. Recycling reduces the amount of energy required to rebuild a product as it bypasses the stages of excavating raw materials and the preparation stage. Therefore, recycle your supplies wherever possible. It can include using a plastic can of a used product to store your supplies or using it to plant saplings.
Habit 7: Dispose off Waste Responsibly
One can also contribute to recycling by disposing of waste in the proper recycle bins. For instance, blue bins for paper items, red bins for plastic containers, green bins for organic waste, and yellow bins for synthetic supplies like clothes, towels etc. Go Clean, Go Green!