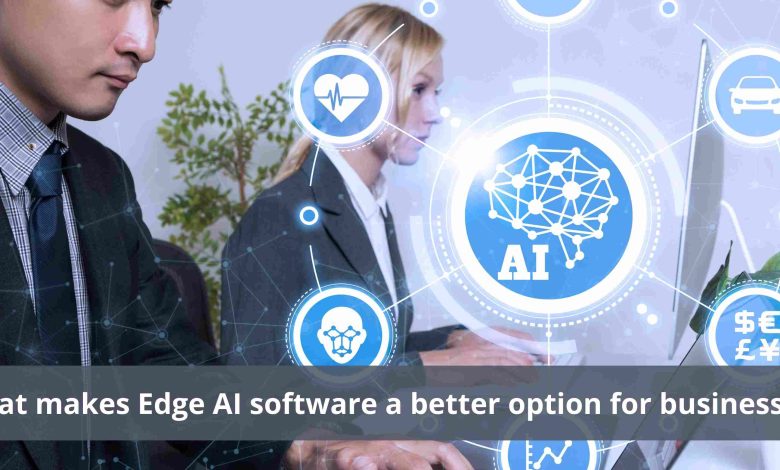 On the device or on a server nearby, AI algorithms work locally. Devices generate their own data. Without connecting to the Internet or the cloud, devices can make independent decisions in milliseconds. Applications for Edge AI software are virtually unlimited. From smartwatches and production lines to smart buildings and cities, Edge AI solutions and applications extend across various industries.
Edge AI software:
Edge artificial intelligence (AI) software combines edge computing technology with machine learning. AI software automatically translates raw data into movements or events, predictions, and insights without costly, time-consuming data analysis.
The technology combines artificial intelligence capabilities with software applications through software frameworks and software development kits. This software uses sensors and signals to process AI algorithms on hardware devices. Since the system senses the connection and determines the decision based on its state, there are fewer chances of remaining connected in a live manner when this system is adopted.
As per the Astute Analytica report, the global Edge AI software market is forecast to grow at a CAGR of 29.8% during the forecast period from 2021-2027. With edge technology becoming more important to several industries, this software is forecast to develop more in the coming years.
A better option for business
Edge AI software helps speed up decision-making, make data processing more secure, improve user experience with hyper-personalization, and lower costs. In addition, it simplifies processes and makes devices more energy efficient.
Hand-held tools used in factories are an example of this. It uses Edge AI software embedded in a microprocessor. It lasts longer when the tool doesn't have to send data to the cloud. Real-time data collection, processing, and analysis occur in the tool, and after each workday, the tool sends the data to the cloud for further analysis.
The following are a few reasons why Edge AI software is a better choice for businesses:
Time lag:

Cloud data transfer is time-consuming. It usually takes 100 milliseconds to complete this. The majority of the time, this is not a problem. But there are times when response times are so high that even latency becomes an issue. Thus, It reduces latency and helps businesses to work efficiently. 

Analytics in real-time:

Using Edge AI software, near real-time analytics is possible. It takes just a fraction of a second to complete the analysis, which is crucial in time-critical situations. 

Availability:

If the majority of data processing is done locally, on edge, centralized services or data transmission will not cause a bottleneck. Edge AI applications typically deal with large amounts of data. Transmitting video image data from hundreds or thousands of sources at once to a cloud service is not a viable solution. Thus, it makes it easy for the organization to transfer data quickly. 

Reduced costs:

The edge can bring significant cost reductions for the organization. In addition, it is scalable and reduces latency in making critical decisions. Reduced data transfer can also help reduce bandwidth costs.

Devices become more energy efficient as a result. It is not cheap to process and analyze large amounts of data in the cloud. In order to analyze constant data streams or large amounts of historical data with rapid response times, businesses have to purchase a lot of capacity from a cloud provider, such as GPU computing. These costs can sometimes be so high that they ruin business case calculations.
Edge AI software does require local computing power and investment in hardware, but it is often the most cost-effective solution. 
Read about Air Cushion: A Safe Packaging Solution