Business
Fundamentals of Blockchain, Decentralized finance and NFT.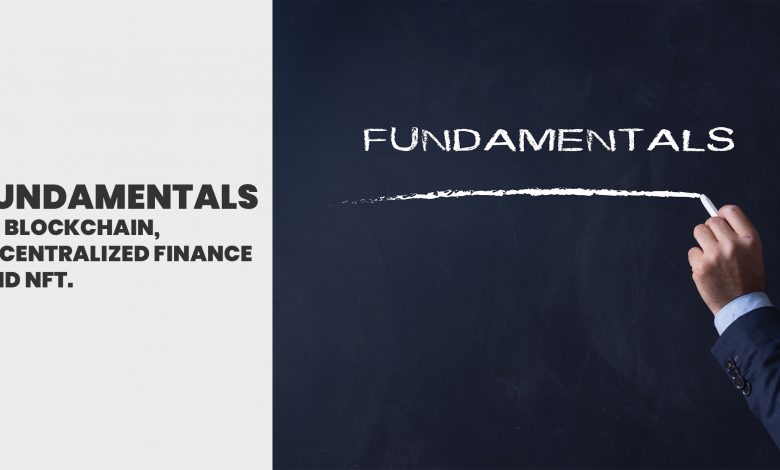 New disruptive technologies are on the rise, and the most famous names among them are blockchain technology, non-fungible tokens, and decentralized finance. All of these are user-oriented and have the capacity to reshape traditional industrial processing. However, all three have their equal share of deniers and advocates. Earlier, only techies were familiar with the concept of these technologies, but now, regular people realize the advantages of leveraging them due to their ease of use.   
Moreover, all three of them are moving beyond their initial applications affecting industries like healthcare, supply chain, finance, fundings, the art industry, and many more. 
So here we bring you the details on the fundamentals of blockchain technology, NFT, and decentralized finance. So if you are not familiar with their basics, then keep reading further. 
Table of contents
Fundamentals of blockchain technology

Understanding blockchain technology

Three aspects of blockchain technology

Decentralization

Transparency

Immutability

Fundamentals of decentralized finance

Understanding decentralized finance

Lending and borrowing processes and Defi

Fundamentals of NFT
Fundamentals of blockchain technology
Understanding blockchain technology
Blockchain is a system that records digital information so that it becomes impossible for anyone to fraud, modify, or hack the data. 
It maintains a digital ledger that records transactions in chronological order. Further, the system duplicates and distributes copies of transaction information across the whole network of computers within the blockchain platform. 
Every block in the digital ledger contains a certain number of transactions. Further, when the system adds a new transaction to the ledger, it ensures that every participant of the network gets a copy. 
We can call it a decentralized database where numerous members manage its operations. 
Additionally, blockchain is a form of distributed ledger technology where it records transactions with an unchangeable cryptographic signature known as a hash. 
Three aspects of blockchain technology:
Decentralization
Decentralization refers to a system where no central unit controls the network or processing. A blockchain is independent of third parties, the government, or any powerful company controlling it. 
Transparency
As we know, that system makes copies of transaction data and distributes it over a global network of computers. So, there is no privacy of information. Hence it maintains incredible transparency between members of the network. 
Immutability
Blockchain systems contain such digital data that no one can modify or rewrite. 
In case someone tries to make changes or fraud the system, members can easily detect it as everything on the blockchain is transparent to every user. 
You can enroll in certification programs on available platforms such as the blockchain council to better understand the subject. 
Fundamentals of decentralized finance
Understanding decentralized finance
Decentralized finance is a collective term for numerous projects and applications over a public blockchain. These applications can cause disruptions in the traditional finance sector. 
Defi represents financial apps that operate under blockchain technology with the help of smart contracts.
Smart contracts are a form of the agreement containing predefined rules and regulations that involved parties must follow to perform a transaction. The best thing about smart contracts is it eliminates the need for middlemen or any kind of third-party involvement.
Furthermore, the system comprises a peer-to-peer protocol that decentralized blockchain networks develop. Every member can access financial services, including trading, borrowing, lending, etc., without any censorship. 
The majority of decentralized finance applications operate on the Ethereum blockchain. But, we are also seeing the rise of alternative public networks offering better security, speed, scalability, and lower transactional prices. 
Lending and borrowing processes and Defi:
Decentralized finance enables permissionless lending and borrowing between members. Therefore, it represents itself as an Open Finance platform offering multiple lending opportunities to cryptocurrency holders on the network, helping them to earn remarkable yearly yields. 
Moreover, borrowers can get the desired loan amount at a specific interest rate using the decentralized borrowing service. Additionally, the platform aims to satisfy the requirements of the crypto community by offering real-world use cases in financial assistance. 
READ ALSO:- A Deep Dive Into Pros and Cons of Email Marketing
Fundamentals of NFT
Non-fungible tokens are digital assets that run on blockchain technology; furthermore, every non-fungible token comprises unique data that represents the originality of digital assets. It is a digital certificate of authenticity of objects. And objects that people trade on NFT marketplaces have their own NFT certificate. 
NFT can be anything ranging from a piece of digital art, virtual property to in-game accessories. The majority of NFT operate over Ethereum blockchain. However, other blockchain networks are also emerging that support NFT trading, for example, FLOW. 
Uniqueness is the key characteristic of NFT; in contrast to digital money like cryptocurrencies, users can not interchange two similar-looking NFT as it contains unique values. Furthermore, the real-world value of a digital asset defines the worth of its NFT token. For example, the worth of a real world painting will depend on the taste and preference of people and its demand among buyers. Similarly, members bid on NFT arts on virtual auctions that drive its worth. Also, the scarcity of an object plays an important role in driving its value. 
Further, blockchain technology secures the immutability of NFT assets. Also, it plays a vital role in protecting the ownership of non-fungible tokens. Blockchain makes it easier to track and check the originality of an NFT token so that buyers can be sure that they are investing in an authentic object and not the fake one. If you want to get better insights into the workings of NFT, then it would be helpful if you take the NFT course available online. 
Closing Thoughts
Hopefully, you gained valuable insights into these three promising technologies. Furthermore, if you want to have an in-depth understanding of such disruptive technologies, it would be feasible to take relevant courses and enroll in certification programs. However, ensure that you are using reliable resources. 
Visit the BLOCKCHAIN COUNCIL for the latest updates on blockchain technology. Also, you can access multiple blockchain-based certifications the platform provides.